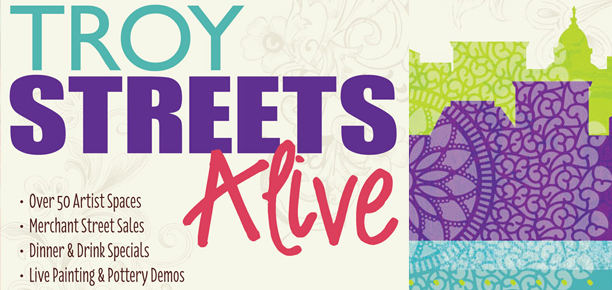 In case you haven't heard already, the square in downtown Troy will literally be coming "Alive" this weekend.
Well sort of anyway.
Presented in partnership with The Troy Arts Alliance and Troy Main Street organization, members of the community are invited to stop down to the square from 5 to 9 p.m. for "Troy Streets Alive".
"We had a similar event last year and the turnout ended up being better than we expected," said Steve Smith, owner of The Caroline.
The event will feature more than 50 artists' spaces, merchant street sales, dinner and drink specials at a number of downtown restaurants, live painting and poetry demos, multiple music venues and more.
"We're hoping for an even better turnout this year," Smith added.
To learn more about this year's "Troy Streets Alive" event, visit TroyMainStreet.org or call (937) 339-5455.