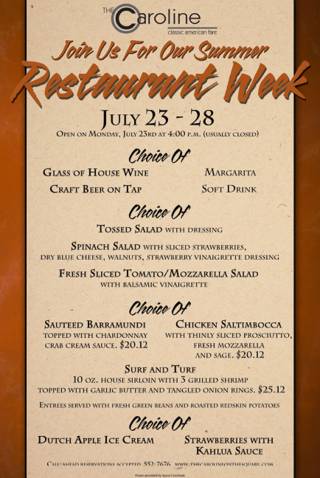 With restaurant week set to kick off in less than two weeks, we thought it would be appropriate to provide our patrons with the low down on what some of the weeks specials will be.
Restaurant week is set for July 23 – 28. On Monday, July 23, the restaurant (normally closed) will also be opening at 4 p.m. for the event.
Among some of the specials patrons will be able to enjoy during restaurant week include Sauteed Barramundi topped with chardonnay and crab cream sauce, Chicken Saltimbocca with thinly sliced prosciutto and fresh mozzarella, and our Surf and Turf, 10 oz. sirloin with three grilled shrimp special. And of course, you'll be able to choose from a variety of side dishes, deserts, craft beers, wine and more to go along with these signature dishes.
For more information about restaurant week, please don't hesitate to give us a call.
And remember, if you're looking to try out some really great summer dishes, stop by for Restaurant Week at The Caroline.