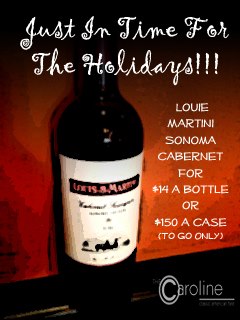 In case you haven't heard the news already, The Caroline will be offering a holiday special on our Louis Martini Sonoma Cabernet.
From now through the holidays, we will be selling bottle for $14 each and cases for $150.
We couldn't be more excited to be offering one of our fan favorites at such an affordable price. Even better is the fact the bottles make Christmas presents.
The special is "to go only".
Please contact Steve at (937) 552-7676 for more information.