Labor Day Weekend Menu for Gentlemen of the Road
Appetizers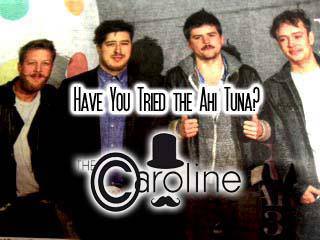 Classic Shrimp Cocktail – Five large black tiger shrimp served with our house cocktail sauce. $10.95
Shrimp Tempura – Four stretched shrimp lightly battered and fried, served with blackberry dipping sauce. $9.95
Margherita Flatbread Pizza – Sliced roma tomato, provolone, marinara sauce, Parmesan and fresh basil. $8.95
Bourbon Mushrooms – Fresh button mushrooms sautéed in bourbon, butter, garlic and onions, served with garlic bread. $7.95
Ahi Tuna – Sushi-grade yellowfin tuna seared rare, served with wasabi and sweet-n-spicy Asian sauce. $11.95
3 Pork Eggrolls – Traditional pork eggrolls served with sweet-n-sour sauce and hot mustard. $8.95
Chicken Wings — with choice of BBQ—Sweet Caroline or Hot Sauce – 6–$5.95 12–$11.95
Soup
Soup of the Day – Vegetable or Chicken Noodle -Cup $3.00 or Bowl $5.00
Lighter Fare
The Caroline Burger – 8oz. Certified Angus Beef burger, char-broiled to your desired temperature. $9.95
Caribbean Jerk Chicken Breast Sandwich – Lightly seasoned chicken breast served with a Mandarin orange-pineapple jam. $9.95
Fish'n Chips – Beer-battered whitefish with hand-cut fries and tartar sauce; served with our housemade coleslaw. $11.95
Black Bean Burger – Vegetarian burger topped with sautéed onions and peppers; Chipotle lime mayo on the side. $8.95
Chicken Tenders – Breaded and fried white-meat chicken with handcut fries and your choice of BBQ Sauce or Honey mustard 3–$6.95 or 5–$8.95
The Caroline Salad – Mixed greens, dried cranberries, walnuts, fresh apples, bleu cheese crumbles. Maple vinaigrette on side.
*With Seasoned Chicken Breast $12.95 Salmon $13.95 or Ahi Tuna $13.95
Blackened Steak Salad – Blackened sirloin prepared to your specifications on a bed of mixed greens, red onion, fresh tomato, bleu cheese crumbles and tangled onion rings. $13.95
Entrees
10 oz. Roast Prime Rib of Beef, Au Jus $20.95
Filet Mignon – 6oz. center-cut, char grilled to your desired temperature and garnished with Burgundy sauce, portabella mushrooms and tangled onion rings $26.95
The Caroline House Steak – Seasoned 10oz. sirloin prepared to your specifications and finished with garlic butter and tangled onion rings $20.95
Grilled Maple-Glazed Atlantic Salmon – Fresh 8oz. filet of salmon, basted with our whiskey-maple glaze. Prepared medium unless otherwise indicated $20.95
Pasta Primavera – with Olive oil, Basil, Garlic and Fresh Seasonal Vegetables $14.95
Southwestern Pasta Alfredo – Pasta tossed with Cajun chicken, sweet bell peppers, onions and mushrooms in a creamy Parmesan cheese sauce $15.95
Grilled Chicken Mozzarella – Chicken breast served over marinara sauce and topped with fresh mozzarella, roma tomato, red onion, Parmesan and Basil $16.95
Sides— Sweet Potato Fries, Hand-cut Fries, Fresh Green Beans or Stewed Tomatoes.
Desserts
Triple Chocolate Cake
New York Cheesecake
Fresh Strawberries with Kahlua Sauce
Labor Day Weekend Beer List

On Tap:
Guinness – Stella Artois – Fat Head IPA

By the Bottle:
Bells Amber
Blue Moon 
Tillburg Dutch Brown 
Flying Dog in Heat Wheat 
Stone Pale Ale 
Bells 2 Hearted 
Breckenridge Vanilla Porter 
Lefthand Milk Stout 
Sam Adams Seasonal 
Yuengling Lager 
Bud, Bud light 
Miller Light 
Wine List
Wine –  By the Glass or Bottle
WHITES:
Chateau St. Michelle Riesling 
Ecco Domain Pinot Grigio, Italy 
Whitehaven Sauvignon Blanc, New Zealand 
Kendall Jackson Chardonnay, California
Movendo Moscato, Italy 
REDS:
Apothic Red Bland, California 
Mirassou Merlot 
MacMurray Ranch Pinot Noir, Central Cost 
Louis Martini Cabernet, Sonoma 
Gascon Malbec, Mendoza Argentina 
Specialty Martinis
The Ultimate Cosmopolitan – Svedka citrus vodka, triple sec, and a splash of cranberry and lime juice 
The Red Head – Orange Vodka, Liquor 43, Pineapple and Cranberry Juice 
Espresso – Svedka vanilla vodka, Kahlua, half and half 
White Cosmo – Svedka vodka, peach schnapps, lime juice, white cranberry juice 
Specialty Cocktails:
Hypnotiq Breeze – Hypnotiq liqueur, Malibu rum, pineapple juice 
Lucy in the Sky – Svedka vanilla, coconut rum, blue curacao, pineapple juice 
Strawberry Lemonade – Svedka citrus, Strawberry mix, splash of soda 
Slush Puppy – Raspberry Svedka Vodka, Blue Curacao, Sour Mix and sprite