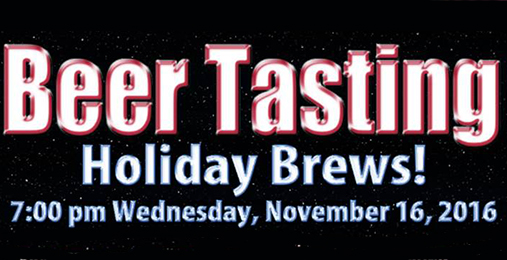 Join us for the Holiday Brews Beer Tasting on Wednesday November 16th at The Caroline!
Jim from Cavalier DIst. will be our host as we sample some fantastic beers, including:
Brasserie d'Achouffe n'Ice Chouffe – Begian Strong Ale
Boulevard Nutcracker – English Strong Ale
Heavy Seas Winter Storm – Imperial ESB
Ommegang Lovely Dark and Deep – Oatmeal Stout
Dead Divide Hibernation – Old Ale
Heavy Seas Barrel Aged Greater Pumpkin – Pumpkin Ale
The price is only $18 per person, and we'll be serving up some delicious light appetizers!
reservations can be made by by calling us at  (937)552-7676 or by E-mailing Steve.