We're broad to unveil our latest Charcuterie Board! These delicious appetizer boards change regularly, so be sure to try this one before it's gone!
Stay tuned to our website for the latest information about our Charcuterie Boards, and all of our great specials from The Caroline!
---
The Board is $15 includes meats from Smoking Goose Meatery in Indianapolis, Indiana. Smoking Goose works with small family farmers that raise their animals without antibiotics or hormones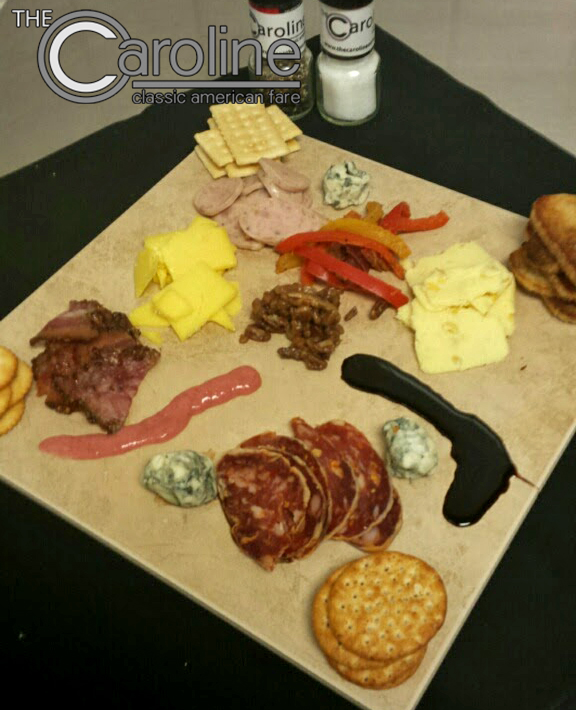 Pork Jowel Bacon
Cured and smoked cheeks of pork with added brown sugar.
Delaware Fireball Salami (Uncured)
Pork, seasoned with sea salt, garlic, crushed red pepper, black pepper, paprika, Fresh espelette pepper
Veal Bratwurst
Veal and pork with ginger.
Roquefort 
Sheep's milk blue cheese imported from the South of France. One of the world's top Bleu Cheeses!
White Stilton with Mango and Ginger
Creamy base delicately enhanced with mango and ginger and aged for 3 months.
Everton Reserve
Alpine style cheese, aged for 18 months to develop the deep, sharp flavor.
---
Accompaniments Include:
Crostini's, Crackers, Balsamic Reduction, Bourbon Honey Pecans, Strawberry and Banana Puree, Smoked Chipotle Onions and Peppers.