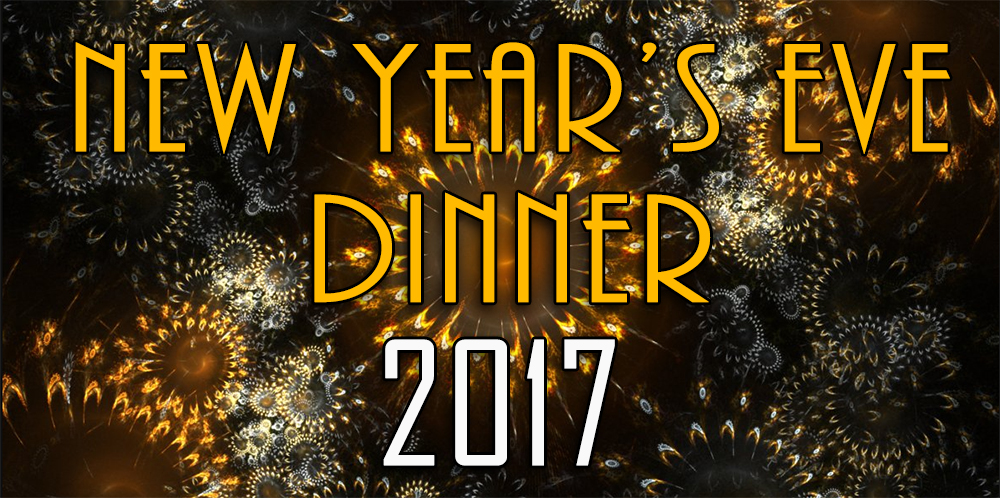 Join us at The Caroline for our 2017 New Year's Eve Dinner on December 30th from 3-10 pm, and December 31st from 3-10 pm! We'll be ringing in the new year with a great special menu:
APPETIZERS:
New England Clam Chowder Cup -$3
French Onion Soup Cup -$5 Crock -$8
5 Chilled Jumbo Shrimp Cocktail – Served with our House cocktail sauce. $13
Ahi Tuna – Seared rare and served with wasabi and sweet & spicy Asian Sauce $13
3 Traditional Pork Egg Rolls – Sweet & Sour and hot mustard $10
The Caroline's Crab Cakes – Served with Remoulade Sauce $12
Bourbon Mushrooms – Sauteed in bourbon, butter, garlic and onions and served with garlic bread $9
Salted Pretzel Breadsticks – Four pretzel bread sticks served with India Pale Ale cheese spread $9
SALADS:
Caesar Salad, House Wedge, Too Gouda Salad – $5
Caesar Salad – Topped with chicken – $13, Crab Cakes -$15, Ahi Tuna $15 or Salmon $15
DINNERS:
Roast Prime Rib of Beef with Au Jus and Horseradish. 12 oz. $28
Caroline House Steak – Seasoned 10 oz. Certified Angus Beef Sirloin finished with garlic butter and tangled o'rings. $23
6 oz. Certified Angus Beef Filet Mignon – Garnished with Burgundy sauce, Portobello mushrooms and tangled onion rings. $29
Pan Seared Halibut –  Served over spinach with a lemon caper butter. $25
Grilled Maple Glazed Salmon – Basted with our whiskey maple glaze. $23
Chicken Francese – 8 oz. grilled chicken breast in a white wine lemon mushrooms sauce. $18
Tomato Basil Shrimp – Black tiger shrimp, tomatoes, artichokes, bell peppers, fresh mozzarella and linguine tossed in a light chardonnay-tomato sauce. Topped with Basil, oil and Parmesan. $23
Southwestern Pasta Alfredo – Pasta tossed with Cajun chicken, sweet bell peppers, onions and mushrooms in a creamy Parmesan cheese sauce.  $17
SIDES: Stewed Tomatoes, Baked Potato, Fresh Green Beans
PREMIUM SIDES: Mashed Potatoes $3, Roasted Asparagus $3, Bourbon Mushrooms $3
DESSERT:
Triple Chocolate Cake $7
New York Style Cheesecake $6
add turtle – $7 or Reese's – $7.
Dutch Apple Ice Cream $6
Coffee Ice Cream $6