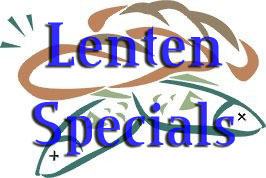 Our Lenten Special are set to kick off today and run through March 29th. The specials will be served on Ash Wednesday and every Friday through Lent.

So what will be serving up you might ask?
From 11 a.m. to 4 p.m.
Shrimp Basket
Six butterflied and breaded fried shrimp with seasoned hurricane fries and cole slaw – $8.95.
Asian Ahi Salad
Seared rare tuna over mixed greens with julienned onions, peppers, carrots, celery and toasted sesame dressing – $13.95
Grilled Grouper Sandwich
Grilled grouper on rye topped with bleu cheese slaw – $8.95
Fish and Chips
Pubhouse battered pollock with hand-cut fries and coleslaw – $9.95.
From 4 p.m. thru 9:3 p.m.
Jumbo Sea Scallops
Sauteed sea scallops on a bed o fresh spinach with citrus aioli sauce – $24.95
Broiled Swordfish Florentine
With fresh spinach and lemon caper butter – $23.95
Australian Barramundi
Topped with fresh sauteed vegetables over rice pilaff – $22.95
Blackened Orange Roughy
Served over garlic her rice, topped with andouille sausage and tomato relish – $22.95.