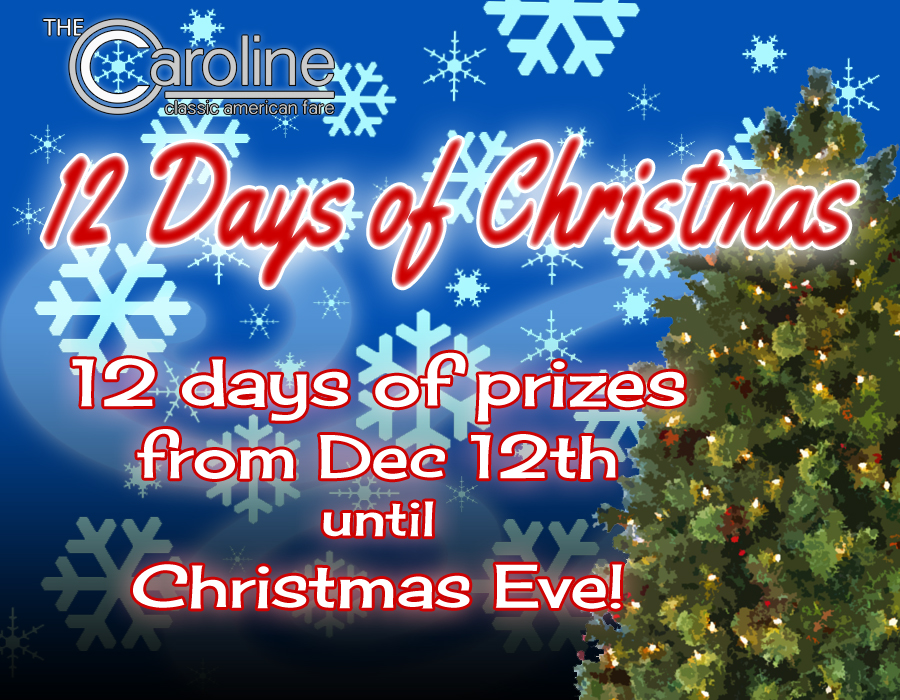 The 12 Days of Christmas Giveaway has begun!
If you were randomly picked to win one of the 12 daily prizes just stop in to The Caroline during our regular business hours and collect your coupon!
The next time you're dining with us you can use that coupon to collect your delicious winnings…it's that easy. We'll be updating this list of winners daily, so if you see someone you know be sure to congratulate them, and if you see your own name, stop on in!
Day 1:  Janice Seger won Tangled Onion Rings!
Day 2:  Collin Merrell won Shrimp Tempura!
Day 3:  Kelly Kaffenberger won a Margherita Flatbread Pizza!
Day 4:  Alice Saunier McIntosh won Ahi Tuna!
Day 5:  Dawn Barhorst Young won a Too Gouda Salad!
Day 6:  Tom Hynes won a Russ Burger!
Day 7:  Jerald Yost won Southwestern Pasta Alfredo!
Day 8:  Janice Mckee won a Caroline House Steak!
Day 9:  Toni Schmidt won a New York Strip!
Day 10: Bob Pabst won a Chicago Ribeye!
Day 11: Robin Adams won a Filet Mignon!
Day 12: Desiree Depinet won a gift card and steak knives!