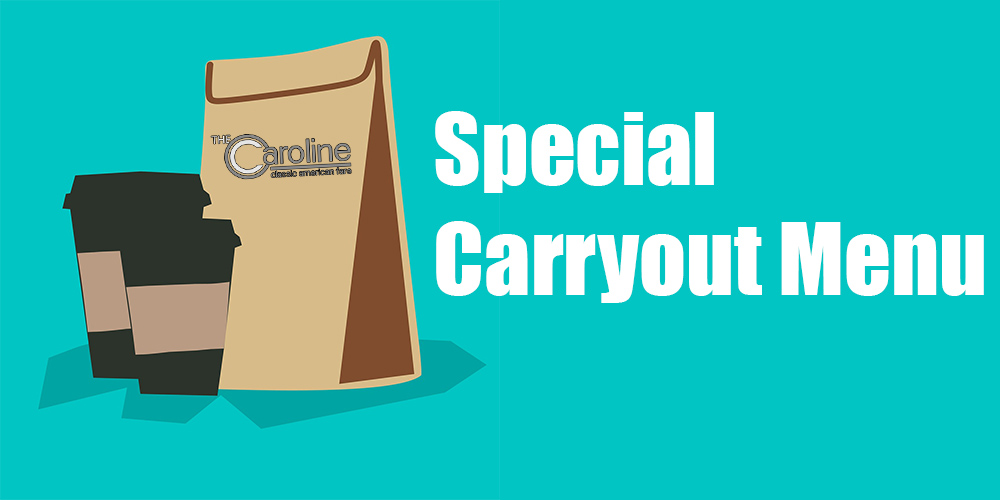 The Caroline is offering a special menu for carry-out orders during the state-wide shutdown. We'll be open for pickup from 4pm- 8pm (Please place orders by 7:30 pm) Tuesday-Saturday.
Please text us at 937-216-8484, call 937-552-7676, or email stevesmith@thecarolineonthesquare.com with your order, name, phone number, and time you plan to pick up.
You can do this as early as you want and we will respond back in a timely manner.
If you call the restaurant to place an order please do not leave your order on the answering machine, please call back until we answer.
Beer and Wine available for carry-out at retail price.
---
The Russ Burger is available on Wednesday and Thursday by popular demand!
---
We now offer carryout Red and White Sangria $4, Frozen Vodka Lemonades $5, Margaritas $4
SOME ITEMS SUBJECT TO CHANGE
Appetizers
Caroline Wings 6 for $6 12 for $12 Sweet Caroline sauce. Buffalo or BBQ
Shrimp Tempura five stretched shrimp lightly battered and fried. Served with blackberry dipping sauce. $13
Pork Egg Rolls three traditional egg rolls served with sweet n sour, hot mustard and Asian slaw. $10
Southwest Egg Rolls three flour tortillas filled with chicken, black beans, and corn. Served with coriander lime dipping sauce and cilantro relish $11
Pretzel Bread Sticks four pretzel bread sticks served with India pale ale cheese spread $9
Margherita Flatbread or Pepperoni Flatbread $9
---
Entrees
Fish and Chips house breaded Atlantic cod with house made french fries and coleslaw $14
The Caroline Burger 8 oz Certified Angus beef burger, charbroiled to your desired temperature and served on a brioche bun with house made chips $13
Monterrey Chicken Sandwich 8 oz grilled chicken breast, BBQ sauce, melted jack cheese, bacon served on a brioche bun with house made chips $13
Prime Rib, Bacon and Cheddar Sandwich served with house made chips $13
Smoked Chicken Ravioli Tossed in a creamy Marinara Sauce and served with Caesar Salad $16
4 Chicken Strips Served with dipping sauce and Macaroni and Cheese $13
Blackened Steak Salad Blackened certified Angus beef sirloin prepared to your specifications on a bed of mixed greens, red onion, fresh tomato, bleu cheese crumbles and tangled onion rings $16
Caesar Salad, Caroline Salad, or Too Gouda Salad $10 Add seasoned chicken breast for $13, salmon for $16, or as a side salad $6
The Caroline House Steak seasoned 10 oz Certified Angus beef sirloin prepared to your specifications. Finished with garlic butter and tangled onion rings $24
16 oz Boneless Ribeye served with garlic & horseradish sauce
Chicken Linguine 8 oz grilled chicken breast in a creamy Parmesan Alfredo sauce served with Caesar salad $16
Grilled Maple Glazed Salmon 8 oz Atlantic salmon, prepared medium and basted with our whiskey maple glaze $22
---
Sides
Hand Cut Fries,  Green Beans, Potato Wedges,  Bourbon Mushrooms
Latkes Potatoes $4 , Roasted Asparagus $4 , Sweet Potato Fries $4, Macaroni and Cheese $4
---
Desserts
Triple Chocolate Cake with baileys Irish cream ganache $7
NY Cheesecake with turtle or Reese's $7
Coffee, Dutch Apple, or Fudge Mocha Ice Cream $7
---
Kid's Menu
Kid's meals are served with fries, chips or applesauce and small drink. – $6
Grilled Cheese | PB&J | Hamburger | Soup & Salad | Penne Pasta with Butter | The Ryan D. Chicken Tenders