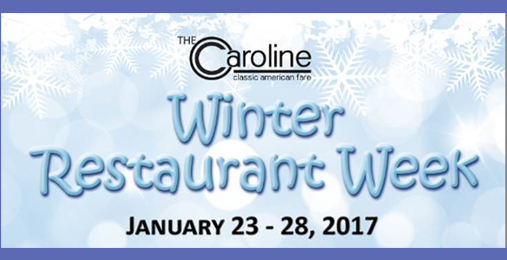 Join us for Winter Restaurant Week at The Caroline from January 23 – 28!
This year's menu includes:
Choice Of 
Glass of House Wine
Redwood Creek, Chardonnay, Pinot Grigio, Cabernet Merlot, Pinot Noir, White Zinfandel
Craft Beer on Tap
Stella Artois, Bells Seasonal, Fathead IPA
Soft Drink
Choice Of
Tossed Salad with dressing
Too Gouda Salad
mixed greens, Granny Smith apples, ground pecans, smoked Gouda cheese, and dried cranberries tossed with a creamy balsamic dressing.
Grilled Portabello & Barley Soup
Choice Of
Beef Short Ribs
Hickory and molasses beef short ribs with redskin potatoes and fresh asparagus.
$25.17
6 oz. Certified Angus Beef Filet Mignon
Prepared with a red wine tarragon reduction. Served with roasted redskin potatoes and fresh asparagus.
$30.17
Jumbo Sea Scallops Fettuccine
Tossed with red onion and asparagus tips and roasted red pepper, caper and cream sauce.
30.17
Choice Of
New York style Cheesecake
Homemade Death by Chocolate pie
Call-ahead reservations accepted. Please call (937) 552-7676