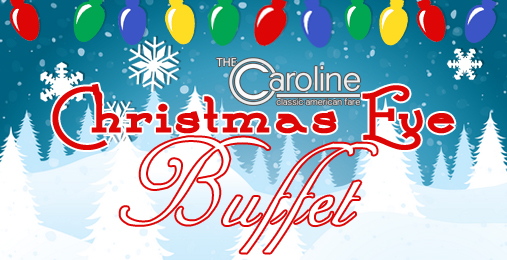 The Caroline is now accepting reservations for our Christmas Eve Buffet coming up on December 24th 2017 from 3pm – 8pm!
The price for adults is $26, children 5-12 $14, and kids under 5 are free with a kids menu available!
Please give us a call at (937)552-7676 to make your reservation today!
The Buffet will feature:
Italian Pasta Salad
Asian Slaw
Mediterranean Mushroom Salad
Tossed Salad
Caesar Salad
Egg Rolls
Swedish Meatballs
Carved Prime Rib & Ham
Chef's Pasta Creation
Asian Style Salmon over Rice
Grilled Chicken Breast Francese
Green Beans
Mashed Potatoes
Assorted Cheescakes
Gourmet Brownies
Cookies